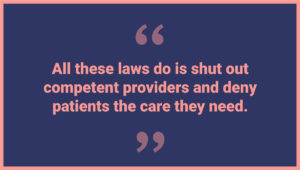 On Monday December 2, 2019, abortion providers filed an amicus brief in the June Medical Services v. Gee abortion case highlighting providers' personal experiences and the impact of restrictive laws on their patients.
The brief, signed by the Abortion Care Network, National Abortion Federation, Physicians for Reproductive Health, and Planned Parenthood Federation of America, also includes firsthand experiences from providers on how admitting privilege laws at the center of the case directly impede their ability to provide dignified, patient-centered care.
A number of physicians affiliated with Physicians for Reproductive Health were included: Dr. David Eisenberg, Dr. Chava Kahn, Dr. Bhavik Kumar, Dr. Douglas Laube, Dr. Julia McDonald, Dr. Colleen McNicholas, Dr. Ghazaleh Moayedi, Dr. Shanthi Ramesh, Dr. Yashica Robinson, Dr. Meera Shah, and Dr. Sarah Wallett.
Excerpt from the brief:
Being an abortion provider takes determination. It takes years of medical training. It takes contending with a raft of uniquely onerous and medically irrelevant restrictions. And it takes dedication to persevere in the face of hostility, harassment, and sometimes much worse. Medical professionals choose to provide abortion because they believe that access to competent, compassionate abortion care is vital to their patients' wellbeing, autonomy, and dignity.
In providing that care, clinicians forge close bonds with their patients. Those connections—and the gratitude of their patients—motivate providers to continue their work and advocate for their patients even beyond the clinical setting.