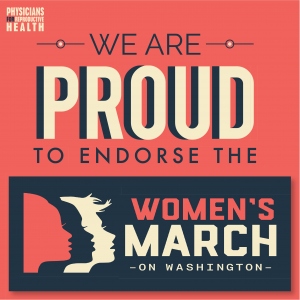 Physicians for Reproductive Health is proud to officially endorse the Women's March on Washington this Saturday, January 21, in Washington, DC. We stand in solidarity with the many thousands of expected marchers, who will be sending a strong message to our government that we will continue to defend not only reproductive health, but the full spectrum of human rights issues affecting the dignity of women, their families, and their communities. For our members and supporters who plan to be in attendance, either in DC or in one of the many sister marches happening across the country, we want to share a few resources on making your march experience smooth, safe, and rewarding.
Women's March on Washington – the March's official page includes extensive information on how to get involved and event logistics
What to bring and how to prepare
Know your demonstration rights in DC
What to do if your rights are violated at a protest
We also know that the power we build by marching together is just the beginning of a sustained movement. Stay tuned for more suggestions on how to continue to be a voice for women's rights with Physicians for Reproductive Health in the weeks ahead.