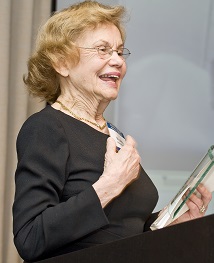 "Providing abortion is as much a part of medical care as delivering babies and doing appendectomies and treating sore throats. It's an integral part of medical care….It is not something that should be stigmatized. It should be a part of general and total medical care." — Dr. Millie Hanson, in 2004
We are saddened to hear of the passing of our dear friend and esteemed colleague, Dr. Mildred "Millie" Hanson.
Dr. Hanson began her career in 1959 as an ob/gyn resident at a Minnesota hospital, caring for women who were septic from illegal abortions and had fevers as high as 107. "If you saw the distress of the women who wanted abortions and saw the morbidity and mortality rates of illegal abortion, and the number of unwanted pregnancies, it was obvious that something needed to be done," Dr. Hanson said.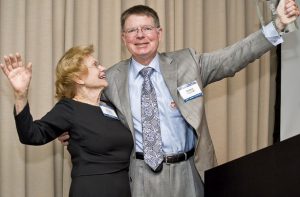 Dr. Hanson was one of the pre-Roe doctors featured in our documentary, Voices of Choice. You can watch her interview and read a transcript here. In 2008, Physicians honored Dr. Hanson with our William K. Rashbaum Abortion Provider Award. She truly exemplified the spirit of the award, as a doctor who provided outstanding abortion services and served as an inspirational leader for colleagues, residents, and medical students.
Dr. Hanson noted that the harassment she and her colleagues experienced paled in comparison to what her patients encountered: "We experience some harassment…. It bothers my staff and me, but what I really object to is the impact on our patients.  When women are queried as to what was most difficult about their abortion — making the decision, pain during or after the procedure — they almost always say being exposed to the harassment."
She believed that we all have to work to lift the stigma of abortion. In an interview from 2001, Dr. Hanson said: "Young clinicians must realize that abortion must be a part of mainstream health care. However, we have not yet erased the stigma that is attached to being an abortion provider."
However, Dr. Hanson worked hard to eliminate that stigma: she devoted her career to speaking out, to championing reproductive rights, and to improving patient care. Observing a lack of providers in her area, she saw patients from North Dakota, South Dakota, Iowa, and Wisconsin as well as Minnesota.
She had seen the dark days, pre-Roe, and hoped for a better future for women and providers alike. "[Abortion] is a part of mainstream medical care, and I think when that kind of thinking becomes a part of our mission, as far as what we do as doctors, I think that then we will see the stigma removed."
Today, Physicians President and CEO Jodi Magee remarked: "Millie was an ardent advocate and skilled practitioner who understood what seeking an abortion meant to a woman. Her recollection, in our Voices of Choice documentary, of a young woman who committed suicide, breaks my heart every time I see it. And it is clear it broke hers, still so many years after the incident."
As we mourn the loss of Dr. Hanson, we must keep her memory alive by working to make her vision a reality. Thank you, Dr. Hanson, for being a champion of reproductive rights, an innovative practitioner, and a cherished friend and colleague.
We feel honored to have known her.