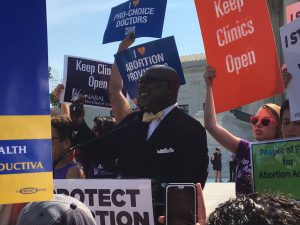 On June 27, the United States Supreme Court, in a 5-3 decision, ruled in favor of abortion rights, striking down both provisions of the Texas law that placed unnecessary restrictions on abortion care access. Physicians for Reproductive Health Board Chair Dr. Willie Parker issued the following statement:
"Today's Supreme Court ruling is an historic confirmation of a woman's right to make her own decisions about her health, her family, and her future.  Politicians can no longer use ideologically driven laws with no medical basis to threaten women's health by restricting access to safe, legal abortion care.
"Our physicians are profoundly committed to women's health and well-being, and know better than anyone the true consequences of unduly restrictive abortion regulations: women across the country, and especially in the South where I have seen it firsthand, are losing the ability to make private health care decisions because states have passed hundreds of laws preventing safe and legal abortion access. This ruling affirms that a woman's right to dignified and compassionate abortion care should not depend on where she lives or on the interference of politicians. Every woman should be free to make medical decisions based on her doctor's advice and what is right for herself and her family.
"The battle to protect abortion access is not over. We will continue to fight to ensure that our physicians can fulfill their deep, conscientious commitment to providing all women who need it – in Texas and across the country – with dignified, compassionate, and appropriate reproductive health care."