Celebrating 25 Years as a Voice of Courage

This year marks Physicians for Reproductive Health's 25th anniversary as the nation's only physician-led non-profit organization dedicated to training and mobilizing physicians to become advocates for reproductive health, rights, and justice. We kicked off our celebration of this milestone anniversary on June 5th at the 2017 Voices of Courage Benefit gala hosted by award-winning actress, producer, and activist Julianna Margulies. We honored two extraordinary abortion providers who are leaders in the field today: Dr. Philip D. Darney received the 2017 William K. Rashbaum, MD, Award for his lifetime of service in the field of family planning research and abortion training, and Dr. Yashica Robinson received the 2017 George Tiller, MD, Award for her compassion and dedication as one of the only abortion providers in her home state of Alabama. Thanks to the tireless fundraising efforts of our Committee, led by Benefit Chair Dr. Isabel Blumberg and 25th Anniversary Chair Dr. Caitlin Fiss, the event raised over $600,000 to help us continue our work to improve access to abortion care. 
Learn about the awardees, see photos of the event, and watch special guests U.S. Senator Elizabeth Warren and Physicians Board Chair Dr. Willie Parker, among many others, in our Voices of Courage video here.
Stay tuned! This is just the start of our yearlong celebration of voices of courage!

Life's Work – What a Night!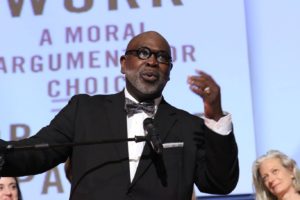 Comedian John Oliver welcomed more than 700 friends and supporters to the April 6th launch party for Physicians' Board Chair Dr. Willie Parker's new book, Life's Work: A Moral Argument for Choice. In addition to a short reading by Dr. Parker from the book, the evening featured an intimate one-on-one discussion between Dr. Parker and feminist icon Gloria Steinem. The evening was co-hosted by Physicians for Reproductive Health and the New York Society for Ethical Culture, and co-sponsored by FemInEM and Fletcher & Company.
Dr. Parker is an outspoken Christian reproductive justice advocate and abortion provider, and one of the few doctors to provide abortion services to women in the South. In Life's Work, he draws from his personal and professional journeys as well as his medical training to explain how he came to believe that helping women in need, without judgment, is precisely the Christian thing to do.
In this deeply personal book, Dr. Parker illuminates the realities of abortion in the United States today from the perspective of someone who performs the procedure and staunchly defends the right to do so. In revealing his daily battle against mandatory waiting periods, and such unnecessary state-imposed rules as those governing the width of hallways, Dr. Parker uncovers the growing number of strings attached to the right to choose and makes a powerful case for championing women's moral autonomy and their right to access care. Life's Work is now available both online and at bookstores everywhere.

New Feature: Resistance Report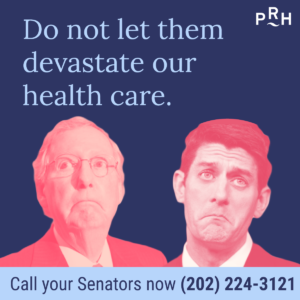 With its effort to overturn the Affordable Care Act, its reinstatement and expansion of the "global gag rule," and its choices for just about every reproductive health care-related policy position, the Trump administration has made their position on women's health abundantly clear. They want to deny women access to the affordable reproductive health care they need and deserve. Physicians is doing everything we can to resist these efforts and defend gains made over the last eight years – particularly as part of the Affordable Care Act – at the same time that we are working for positive, pro-active legislation that will expand access to reproductive health care.
We are mobilizing our nation-wide network of doctors to advocate firmly for the defeat of the Senate's health care repeal bill, making the case that this bill will deny access to reproductive health for millions of women. We are getting our doctors' voices on social media, in print, and on television and radio, to speak out about how dangerous the repeal bill is to the health of all Americans.
As we work to defeat the Senate's repeal bill, we are more determined than ever to improve access to reproductive health with bills that will improve access to and delivery of this care. We are working closely with our colleagues to get Congress to sponsor and pass pro-active reproductive care legislation:
The Women's Health Protection Act places the health and safety of women over politics, and will codify the right to unimpeded access to comprehensive reproductive care for all women.
The Health Equity and Access Under the Law (HEAL) for Immigrant Women and Families Act will increase immigrants' eligibility for health insurance coverage and access to health care.
The Equal Access to Abortion Coverage in Health Insurance (EACH Woman) Act will restore abortion access in public insurance, reversing the Hyde Amendment and other funding restrictions.
The Pregnant Workers Fairness Act will help end discrimination for pregnant employees who are terminated or denied reasonable accommodations, so that pregnant workers aren't forced to choose between following their doctor's guidance and losing their jobs.
You can play an important part by signing onto our petitions and alerts that are sent directly to the policymakers making critical health care decisions, as well as by continuing to support our work to advocate for pro-active initiatives such as these.

Health Care Providers – Help Stop the ACA Repeal Bill!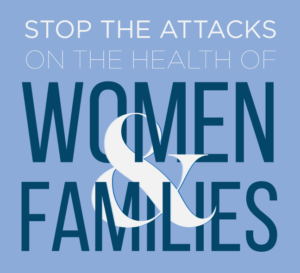 If you are a health care provider, please join a letter to senators from health care providers asking them to stand against the Senate's health care repeal bill. Covering essential health services and expanding Medicaid so more people are insured – thanks to the Affordable Care Act – has helped millions of Americans. Tell senators we cannot go backwards. Keep the pressure on the Senate, sign the petition right now.
Sharing Stories Until Our Bodies, Our Families, and Our Communities Are Safe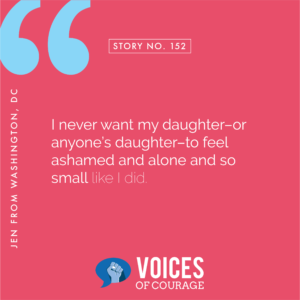 Since inauguration day, we have posted more than 150 stories (one per day!) through our story sharing campaign, #VoicesofCourage, to highlight why access to comprehensive and compassionate reproductive health care is absolutely essential to the health and well-being of all women, families, and communities.
Read our stories here… and then tell your own!
We need stories now more than ever to raise up our values of compassion, community, and support for women—and connect us to others. These stories show the real-life harm that the Trump-Pence administration, Congress, state restrictions, and religious refusals have on people across the country. The Voices of Courage campaign demonstrates that whoever we are, wherever we live, we need compassionate reproductive health care without shame, or financial or geographic obstacles.
We're asking providers and patients – you! – to share stories that exemplify why comprehensive reproductive health care matters. If you have a story about preventative care, contraception, abortion, STI testing, LGBT health issues, or adolescent health – or anything relating to reproductive care – please join our Voices of Courage campaign and tell your story today!
And if you would like to support this campaign, please make a donation so we can continue this project until our bodies, families, and communities are safe!

Physicians in the Press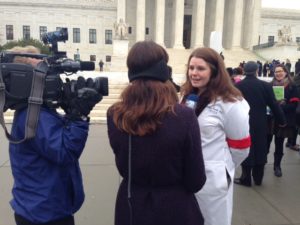 5 Experts On Why Limiting Access To Free Birth Control Is Terrible For Women
CHOICE/LESS: The Backstory, Episode 1: The 1956 Puerto Rican Pill Trial
GOP health-care bill could cost women $1,000 more per month for 'maternity' insurance coverage — and even more when they have kids
Why Donald Trump's Women's Health Week Statement Is Full Of Hypocrisy
Jail system unfair in pregnancy case
Is Rape A Pre-Existing Condition? Not Exactly
Trump's New Abortion Restrictions Will Affect $9 Billion In US Global Health Money
Affordable Care Act: Don't reverse progress
Health care bill 'shameful,' 'harmful,' medical groups say
3 Women On What You Need To Know About Abortion In America Right Now
41 Things You Should Know About Abortions And The Doctors Who Perform Them
Planned Parenthood is vital in Alaska
Life as an abortion doctor: 'I practiced silently due to violence – until now,' 
Why as a doctor I am concerned about repealing Obamacare
Pa.'s proposed 20-week abortion ban is bad for families
Trump Administration Rescinded Civil Rights For Transgender Students
Trump's Administration Just Lifted Key Transgender Bathroom Guidelines
And what WE said…
HEAL Act advances health care access for immigrant women and families
Contraceptive coverage rollback would be disastrous for women's health
CBO Confirms AHCA Still Takes Insurance for Millions off of the Table
Trump's budget catastrophic for patients and their families
The AHCA Is a Direct Attack on Reproductive Health Care
Trump HHS appointees stand in the way of reproductive health access
The New ACA Repeal Bill Is Even More Reckless
Gorsuch's Confirmation Would Endanger Women's Health
Voting to Weaken Access to Title X Providers Is Pure Discrimination
The ACA Repeal Bill is Terrible for Women
The Bill to Repeal the ACA Is a Direct Attack on Many Americans' Access to Health Care
Physicians for Reproductive Health supports the Women's Health Protection Act
Statement on Trump Withdrawing Federal Protections for Transgender Students
Statement on the passage of H.J.Res. 43
Statement on the confirmation of Tom Price as HHS Secretary
Statement on the confirmation of Jeff Sessions as Attorney General