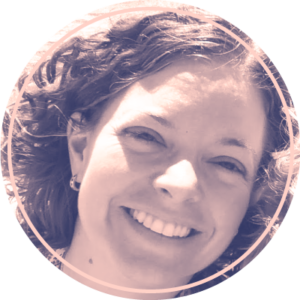 What are your gender pronouns? 
She/her/hers
Where are you from?
I grew up as an Air Force brat, but I lived in Houston, Texas for about 10 years. I moved to Ann Arbor, Michigan after college and lived there for 13 years, and at this point I call the old mitten home.
What's your specialty or area of expertise?
Obstetrics and gynecology, and I am a fellow in Maternal Fetal Medicine (high-risk pregnancy).
What first inspired you to become a doctor?
Even as a kid, I wanted to help people navigate their concerns and problems. Like Lucy from Charlie Brown, only nicer. And I loved science and inquiry. It made so much sense to combine my passion for helping others with my passion for science by pursuing medicine.
What story about one of your patients most sticks with you?
The patients that stick with me are the women who've had difficult pregnancies that we navigate together, no matter the outcome. I feel so privileged to walk these roads with my patients, and to help them make the decisions that are right for them and their families.
What current policy issue especially motivates you to be an advocate?

I advocate for reproductive justice, and I believe that working towards that goal will change our world for the better. As the amazing women of SisterSong have described, reproductive justice is the right to have a child, to not have a child, and to raise that child in a healthy and safe environment. I am particularly passionate about reversing the inequities that women of color face in their reproductive lives, including unconscionable rates of maternal morbidity and mortality. I am inspired every day by my patients, my family, and the women around me.
Who is your social justice hero?
This is such a difficult question – I have been inspired by so many. Honestly, my heroes are all the people who stand up in large and small ways against injustice. Theirs are the actions that help to "[bend] the long arc of the universe toward justice" (Martin Luther King, Jr.).