The Illinois Legislature did something revolutionary this year when it passed House Bill 40, which would protect the legal right to abortion in Illinois and ensure that right is a reality for low-income women. This visionary bill protects the right to abortion by ensuring that it remains legal in the state even if the Supreme Court reverses Roe v. Wade, and it makes that right a reality by lifting the bans that deny insurance coverage for abortion.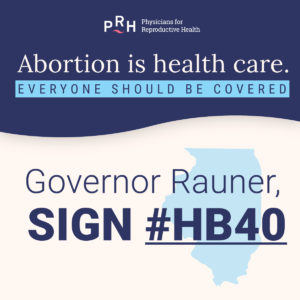 Everyone deserves access to medical care, regardless of their income or where their insurance comes from. In particular, restrictions on abortion coverage have a disproportionate impact on low-income families, women of color, immigrants, and young people. By eliminating these restrictions, HB 40 would help patients and communities thrive.
But our work to advocate for HB 40 is not over. Governor Rauner has threatened to veto HB 40—a veto that would threaten the right to abortion and continue harmful bans on abortion coverage. With the federal government attempting to roll back decades of progress in reproductive health care access, Governor Rauner needs to stand up and lead. The health, dignity, and economic security of Illinois patients are far more important than politics.
As health care providers, we see the importance of abortion coverage every day. This week, we're asking all of our colleagues and supporters to tell Governor Rauner that politics does not have a place in medicine.
Here's how you can join the fight:
Write a letter to Governor Rauner explaining why HB 40 matters to you as a health care provider or a patient. You can send the letter via fax to 217-524-4049, or submit it online.
Call Governor Rauner's office to voice your support for HB 40 as a health care provider or a patient, at 217-782-0244.
Share your support for HB 40 on social media using the hashtags #RespectILWomen and #HB40. Click to tweet at Governor Rauner:
Tell your story: if you've ever had an experience trying to access or provide abortion care in Illinois, you have a powerful story about why this issue is so important. Share your story with our Voices of Courage project and we'll amplify your voice. You can also read and share these Voices of Courage stories from other Illinoisans about why abortion access matters to them:
Spread the word: encourage friends, family, and colleagues in Illinois to get involved too!