Our Maternal Health System is Failing – and We're Ready for Change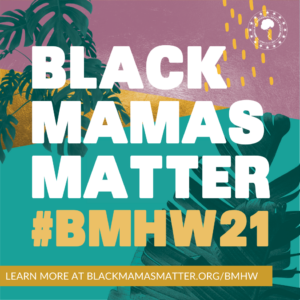 This week is Black Maternal Health Week, started by the Black Mama's Matter Alliance, to raise awareness and strengthen organizing for Black maternal health. PRH is proud to support this ongoing work and ensure every person has access to comprehensive reproductive health care, including care during pregnancy, labor and delivery, as well as postpartum care.
It should go without saying that every single one of our patients should have access to essential pregnancy care. But for some reason we find ourselves shouting the same thing over and over because the situation is dire. For too many patients, particularly Black patients, giving birth is a matter of life and death.
It is not a secret at this point. Our maternal health system is failing. The existing inequities that Black, Indigenous, and other people of color face during their pregnancy and after is untenable. The United States is the only country in the world where maternal mortality is rising. In fact, since 1987 maternal mortality has doubled in the U.S. And worse, in the midst of a deadly, global pandemic disproportionately impacting Black and Indigenous communities the rate of maternal mortality increased by more than 15 percent. Yet, we continue to spend more money and resources on worse outcomes than any other nation.
It's unacceptable.
Black, Indigenous, and other people of color continually face higher rates of mortality, morbidity, and mistreatment when getting the care they need as compared to white people. And the data continually suggests that these existing and  ever-increasing disparities are largely related to systemic racism. Black women are three to four times more likely to die from pregnancy-related conditions – a risk that is shared by all Black women regardless of education, socio-economic status, or location.
I mean hello, look at the pregnancy experiences of people like Shalon Irving, Serena Williams and Beyonce. If these women with societal power and access to resources experience difficulty getting the care they need, how are we supposed to feel confidence in the quality of care other Black pregnant people receive?
Enough is enough. We must do more to ensure all people are able to get the pregnancy related care they need and deserve, and since data shows most of these deaths are preventable, we can make strides. We can ensure everyone is able to access the care they need and have a healthy pregnancy if they want to.
Our network of physicians and advocates are ready for change, our current LTA Fellow Dr. Ariel Franks, a family physician providing reproductive and prenatal health care in the Bay Area, shares her perspective here:
"The unequal outcomes in maternal health amongst Black women are a direct result of systemic racism that is rampant in the medical field. As a biracial provider I witness daily microaggressions and overhear comments that show our Black patients are not receiving equitable care. Meaningful training about implicit bias and how to intervene needs to happen at all levels of health care staff and providers. Research to determine what interventions actually help to improve outcomes amongst our Black patients needs to be carried out immediately. Programs and support systems to uplift and empower our Black patients deserve emergency funding. By having disparities in maternal health outcomes–through disparate prenatal care, traumatic birthing experiences, and maternal mortality–we are setting up Black children to be behind their peers in leading happy and healthy lives. The crisis of inequality in maternal health care is perpetrating disadvantages that will persist across future generations. This is completely unacceptable. Black people deserve the same access to evidenced based, compassionate care that all other patients experience, and we must change our delivery system to be one promoting racial equity."
There is so much we can do on a policy level, which is why PRH is proud to push for policy changes that will alter the status quo. As physician advocates we are continuing to push for:
Better data on the maternal mortality crisis. Current maternal mortality data is likely underestimating the problem as reporting is inconsistent and different methods are used to count deaths related to pregnancy. As providers we know that accurate information and comprehensive data is one of the first steps to ensuring equitable access to health care.
Additional research on meaningful interventions. We can't just talk about the problem we need research and data on meaningful interventions for the disparate outcomes we continue to see.
Educating patients on the signs and symptoms of pregnancy complications, and most importantly for providers, trusting patients when they tell you something is wrong. And this also requires additional training for all medical staff on implicit bias and anti-racism. As physicians, we can do more to ensure our patients are heard and believed.
Provide increased access to midwifery and doula support for pregnant people. Expanding access to midwives and doulas, especially for those who are part of the communities they support, can significantly improve health and birthing outcomes in patients. Data shows that midwives are directly associated with improved maternal health outcomes and lower rates of medical intervention.
Require 12-month postpartum Medicaid coverage. Under current law, women who are eligible for Medicaid as a result of being pregnant lose their eligibility after 60 days of being postpartum. About one third of pregnancy related deaths occur in the postpartum period and losing coverage 60 days into this critical time is unacceptable. Although the American Rescue Plan Act of 2021 provided states an option to extend this important coverage for a year, it is not required and it will be an uphill battle to ensure all states provide this critical coverage. As PRH President and CEO Dr. Jamila Perritt said, "this is a wonderful start. And we have to make sure we understand it as a start." PRH will continue to fight for this essential coverage.
Improve maternal health and support for incarcerated parents. Although many states have passed important protections that prohibit actions such as the shackling of pregnant people who are incarcerated, inhumane conditions, human rights violations, and injustices remain. Providing people who are incarcerated access to the full breadth of resources to ensure their overall health, dignity, and economic security is essential.
Support the Federal Momnibus Act led by the Black Maternal Health Caucus which would among other things:

Make critical investments in programs that influence maternal health outcomes, like housing, transportation, and nutrition;
Providing funding to community-based organizations that work to improve maternal health outcomes and promote equity;
Grow and diversify the perinatal workforce to ensure that every pregnant person receives culturally competent maternity care and support.
Thanks for diving in with us! We appreciate all you do to support our work and ensure patients have access to the care they need. Watch for our next blog in May!
– MiQuel Davies, Assistant Director of Public Policy