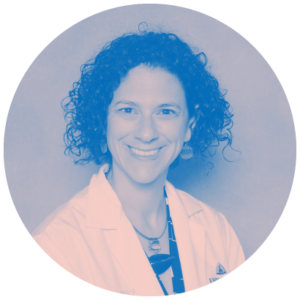 We're proud of the diverse professional backgrounds and interests of our Leadership Training Academy Fellows, and we're looking forward to showcasing their work on our new website. Dr. Carolyn Sufrin, a recent LTA alum from the Class of 2017, is not only a practicing ob/gyn, she also holds a Ph.D. in medical anthropology, and her research focuses on incarcerated women's experiences of reproductive health care. Her new book Jailcare: Finding the Safety Net for Women Behind Bars, drawing from her work as an ethnographer and a clinician in San Francisco County Jail, was published last week. We talked to Dr. Sufrin about her work and the potential impact of the current political climate on patients like the women in her book.
You've written about how, for many women, jail has been one of the most reliable sources of prenatal care. To what extent has the Affordable Care Act changed that, and how will women be affected if it is repealed?
First, I want to be clear that there are many, many women in the criminal justice system for whom jail does not serve this role. There are so many jails across the country that provide substandard, incomplete, and even dangerous pregnancy care. At the San Francisco jail where I did my research, pregnancy care followed community standards. But because of the circumstances of women's lives outside of jail, which made it hard to access prenatal care, jail served that role for many of these pregnant women.
"If the ACA is repealed… this will have a detrimental impact on the ability of poor women to receive prenatal care."
In terms of how the ACA has changed these women's access to prenatal care, there certainly have been improvements through expansion in coverage, including of mental health and addiction treatment, which is a critical need for many of the pregnant women in the criminal justice system. But health care coverage is not the only factor, especially since pregnant women without health insurance had already generally been eligible for Medicaid during pregnancy. It also has to do with the availability of quality services in the community, and the availability of drug treatment and mental health care. It also has to do with all of the other forces of structural inequality, such as lack of affordable housing, unemployment, and other things that contribute to health disparities and difficulty accessing prenatal care. The ACA has certainly made improvements in health care coverage for pregnant women, but it is not the whole story. We have seen a bigger positive impact of the ACA on these women's access to reproductive health care when they are no longer pregnant, especially with the ACA's mandate to include contraception coverage as part of routine preventive health care.
If the ACA is repealed, and especially if the replacement does not include maternity care in required benefits, as is the case with the American Health Care Act, this will have a detrimental impact on the ability of poor women to receive prenatal care. If these same women end up cycling through jail, due to a variety of circumstances, then they will have to rely even more on jail to provide them with prenatal care.
The Trump administration, particularly Attorney General Jeff Sessions, is also working to bring back tougher policies on drugs and other criminal justice issues. What impact will this have on correctional facilities as health care providers?
In the last five years, we had started to see bipartisan reforms in the criminal justice system that were starting to make a dent in mass incarceration, with the incarcerated population finally showing a decline first for men and, as of 2015, for women. This is a result of federal sentencing reform for drug related crimes, and other policies at the state and local level, because we have seen that the criminal justice system policies of the last four decades did not work for anything other than over-populating our prisons and jails and destabilizing communities. Unfortunately, the Trump administration and Attorney General Sessions have declared their intentions to roll back this progress and to reinstate these harmful policies. We are likely going to see a re-inflation of the incarcerated population, which is already too large. This is going to perpetuate the over-extension of limited health care resources available in prisons and jails. In California's case, the overpopulation of its prisons led to poor health care outcomes including preventable deaths, which led to a Supreme Court Case (Brown v. Plata) that then required the state to depopulate. So we know that this over-reliance on incarceration and the reinvigoration of policies that got us to mass incarceration is dangerous for people's health.
"It's not only a matter of access and health insurance, it's also thinking about the other competing priorities that they have to take care of when they get released from jail."
What are some of the unique ethical challenges for doctors who work with incarcerated patients?
There are many unique ethical challenges to being a doctor inside a prison or jail. I would say the challenges arise less from taking care of patients who are incarcerated and more from the rules and contradictions of the environment itself. We have to provide health care within the material constraints of the institution, and sometimes that means limitations on what medications we can prescribe, what referrals for specialty care the correctional facility will deem, what supplies are available on site. You also have to conform to the schedules and rules of the jail in when you can see patients—for instance if it's count time or the jail is in lockdown, then the correctional officers can't bring anyone to the clinic. Maintaining a patient's privacy when it comes to health information can sometimes be a challenge in this environment, because there are always guards around. If you feel that a patient needs to be transported to the hospital for emergency care, this is a big hassle for the jail staff.
As a physician in this environment of relative depravation, you control access to a lot of material resources for patients that usually don't require medical authorization—like a bottom bunk, or extra ice. That's an uncomfortable position to be in, and it turns your decisions about whether to fulfill such requests into ones that, if not fulfilled, seem part of the punitive deprivation of incarceration. And that is not something doctors should be complicit in. Some people have called the challenges of being a caregiver in a space of punishment the "dual loyalty" problem, where the health care professional feels a tension between her responsibility to the patient and prioritizing the rules of the correctional facility. What a lot of this boils down to is being forced to triage your medical decision-making for patients according to the constraints of the jail or prison and what they have determined these patients deserve.
For women who leave jail and lose that access to care (and for who are frequently cycling in and out of jail, as is the case for many of the patients in your book), what can be done to make their access to health care more stable and continuous?
Well, we can reduce barriers to reinstating their medical benefits upon release. Medicaid gets suspended while you are in jail/prison, and it doesn't automatically get reinstated upon release. Putting systems in place in jail or prison that might help facilitate their health care coverage getting reinstated upon release would make a lot of sense. Patient navigators who might meet women in jail and then reach out to them after release to help them get to appointments and with other services is a promising intervention. But it's not only a matter of access and health insurance, it's also thinking about the other competing priorities that they have to take care of when they get released from jail; housing, for instance. So investing more in affordable and supportive housing and in drug treatment programs might make their re-entry easier and give them more opportunities to tend to health care. Another way to keep their access more stable is keeping them out of jail in the first place and reform the criminal justice system while further investing in safety net services that could strengthen people's lives.