Today, PRH Board Chair and ob/gyn in New Jersey Dr. Kristyn Brandi testified alongside abortion storytellers and abortion advocates in a Democratic Women's Caucus shadow hearing entitled "Fighting for Bodily Autonomy: Shadow Hearing on Abortion Rights in Post Roe America."
The following are portions of Dr. Brandi's remarks to the Caucus members in attendance:
"I'm here today to make clear that abortion is essential health care. I can say without hesitation that I have saved people's lives by providing abortion care. It is a critical part of being an ob-gyn. As you can imagine, it has been a challenging year to be an abortion provider in the United States. We are almost at the one-year mark since the Dobbs decision that overturned fifty years of precedent and removed the constitutional protections around abortion care.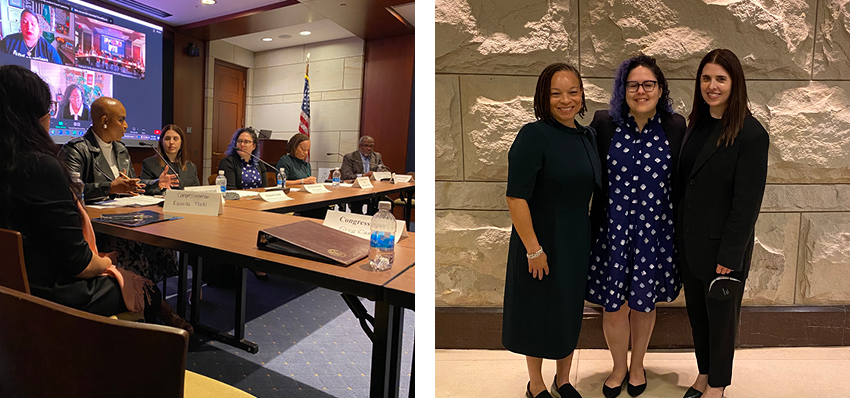 "Our worsening maternal mortality crisis, which disproportionately impacts Black women and birthing people, will be exacerbated by abortion bans. We now have abortion deserts at the same time hospitals are closing their labor and delivery wards because they don't have providers. We are seeing echoes of abortion bans in the newer legislative attacks targeting gender affirming care rooted in coercion and control, affecting people that also deserve care despite others trying to stigmatize and alienate it.
"This has been a harrowing year and things are only getting worse. I am frightened for patients that may be criminalized for making valid decisions about their health; I am concerned for health professionals making impossible decisions while still committing to their oath to provide high quality evidence-based health care; I am terrified for the people that will be forced to continue an undesired pregnancy against their will. I've painted a bleak picture because I don't want to sugar coat how hard it has been.
"But I know that I – and my fellow abortion providers across the country – will not give up. I won't give up because I know how important it is for my patients to have the care they need, when they need it, in the communities they live in. I won't give up because I know that abortion bans are one of many forms of white supremacy that keep communities of color like the one I serve in a perpetual state of oppression instead of letting people live out their own reproductive justice. Abortion care serves as life-saving care for some and liberation for all patients that seek it. And each patient deserves the best evidence-based care from a skilled provider based on science, not politics."