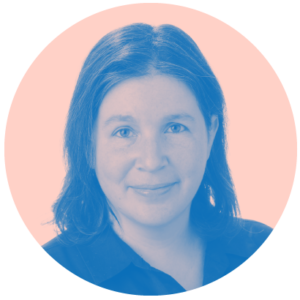 Anita Brakman (she/her) was raised by a Nurse Practitioner and abortion provider, so this work is in her blood. She has been with PRH for over 15 years and spent time at the National Abortion Federation (NAF), Center for Reproductive Health Education in Family Medicine (RHEDI), and Sex Ed for Social Change (SIECUS) before that.
Anita attended New York University for her Bachelor's degree and then completed a Master's in Science focused on Health Policy at the New School in New York City.
Anita lives with her wife and teenage twins in Dobbs Ferry, NY. When she is not fighting for abortion access, Anita spends a lot of time listening to Taylor Swift, playing Dungeons and Dragons with her kids, and spoiling her rescue dog, Rosie. She is also always looking for good nonfiction recommendations, especially about the Arctic, volcanos, or other situations that make our current political landscape seem okay by comparison.
Reach out to her with questions about advocacy training opportunities, CME accreditation, PRH history, and curriculum development, or to share pictures of your dog.
Read More From Anita Brakman