Where do you call home?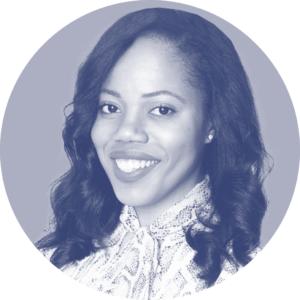 Bowie, Maryland/Washington DC
What's your specialty or area of expertise?
Ob/gyn
What first inspired you to become a doctor?
Patience, confidence, and resilience are qualities that I was initially introduced to through medicine. When I was seven, my father spent almost a year in the hospital after being trapped inside of a burning vehicle and sustaining significant injuries. During that time, I watched a team of physicians restore my father's physical well-being, and, just as critically, care for the emotional well-being of my family. They gave my father the confidence to recover and patiently guided my mother through the process of caregiving. Most importantly, they redirected my fear of losing my dad and helped me to build resilience. Although I did not realize it at the time, I learned the importance of empowerment. These qualities are now crucial to my character as a physician and advocate.
What advice do you have for medical students and residents wanting to incorporate advocacy into their day-to-day?
Advocacy is important on all levels. Never be ashamed to use your voice to express an alternative thought or opinion. Often times, giving yourself the permission to share gives others the permission to do the same. Always be the change you want to see.
What current policy issue especially motivates you to be an advocate?
The maternal morbidity and mortality rate in the United States is one of the highest among all developed countries with women of color being affected at some of the most disparaging rates. Research has shown that women affected by severe maternal morbidity are often receiving state-funded insurance. Despite the abundance of data and information surrounding this, access to care especially in the postpartum period can be extremely varied and limited, often heavily impacting family planning services. Throughout my training, I have seen the effects of disruption in medical care before, during, and after pregnancy. Expansion of services and extension of coverage for women until 12 months postpartum is something I am hopeful about and plan to continue to work for policy change.
How have the events of the past few years shaped how you view being a physician advocate?
The current policy landscape regarding abortion access and care of women in the carceral system has further fueled my desire to expand my advocacy beyond the clinical setting. Many of the individuals informing current legislation have little to no experience providing clinical care, yet they receive a disproportionate amount of influence over our nation's laws. My clinical experiences allow me to amplify my patients' stories and inform the public-at-large about the needs of the individuals these laws directly impact. I hope to leverage my position as a physician to impact change that is consistent with the needs of the communities to which I support and belong.
What is bringing you joy these days?
In the words of India Arie, it's the little things and the joy they bring. Living through the pandemic has taught me that joy exists in all spaces. Driving home with little to no traffic, taking a hike with beautiful scenery, and a physical hug from a loved one can light up my day in ways that I previously took for granted. I have learned that joy is mine to seek and to have; it isn't something I stumble upon.