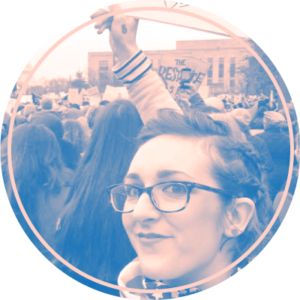 What are your gender pronouns?
she/her/hers
Where are you from?
St. Clair Shores, Michigan. It's a little suburb about 15 minutes from Detroit.
What's your specialty or area of expertise?
I trained in family and social medicine and have degrees in public health and public policy.
What first inspired you to become a doctor?
I worked as a medical biller in a doctors' office for a few years when I was in my late teens and early 20s. I remember being in awe of the doctors in that clinic, especially the women—they were confident, smart, and in control; and I admired the great relationships they had with their patients. Early on, I just wanted all of that. Years later, I learned to appreciate the broad influence doctors can have on social policy through their pursuit of justice, and this aspect of the profession motivated me to continue my medical training.
What story about one of your patients most sticks with you?
The most rewarding and yet sometimes the most challenging aspect of doctoring is bearing witness to people's experiences. I had a patient in my primary care clinic—I'll call him Mr. Marma—who had been working for years to bring his wife to the U.S. from Bangladesh. I'd always know when he had recently returned from his rare visits—he had a brightness in the weeks following these trips. I'd say, "You are so in love." He'd say, "Yes, Doc. I sure am." We'd giggle. I never quite understood the complicated immigration process they were going through, or the circumstances that brought him to the U.S. without her 15 years prior, because he would not indulge me in those stories—he'd brush them off, tell me none of that mattered, and assure me that she would be here soon. For three years, he'd tell me, "She'll be here soon."
On November 9, 2016, I saw Mr. Marma for a regular check-up. We were supposed to be evaluating his blood pressure and diabetes. Instead, he stared blankely at the wall, fighting tears, unable to answer my questions about his excercise regimen. He was devastated. He had heard that the new administration would not allow his wife to come. His reaction to the election results was one of grief. And though I'd learned to counsel patients through the deaths of family members and devastating diagnoses, I had no idea how to comfort my patient, my friend, about this historic political moment. I didn't fully understand the scope of his fears, and I had no idea what the real implications of the election would be on Mr. Marma and his family.
I think of Mr. Marma often, and of other patients like him. My privilege has mostly protected me from the effects of the policies and the rhetoric of this administration. But many of my patients don't have that same protection.
What current policy issue especially motivates you to be an advocate?
I have recently started working in clinics in the New York City jail system. Every day I'm there, I become more and more motivated to dismantle the prison-industrial complex.
Who is your social justice hero?
Can I have two? Great.
Grace Lee Boggs committed her 100-year life to revolution and the pursuit of justice in Detroit and beyond. She was a careful thinker who drew wisdom from other great revolutionaries. Her lectures and writings inspire love and action.
I am so lucky that Dr. Marji Gold is my real-life mentor. She has dedicated her career to improving abortion and contraception access throughout the country, and does this work both clinically and through every policy lever at her disposal. She is an incredible teacher, who always emphasizes a message rarely taught in medicine: TRUST YOUR PATIENTS.