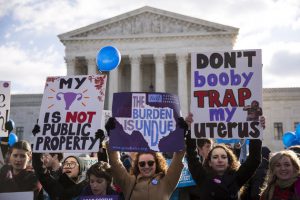 Earlier this month, the Supreme Court heard oral arguments on one of the most restrictive abortion laws in the country, Texas House Bill 2 (HB2). Now, new research from the Texas Policy Evaluation Project (TxPEP) in the American Journal of Public Health shows that the forced closure of over half of abortion clinics in Texas has, as predicted, resulted in significant burdens for women — including increased travel distances, high out-of-pocket costs, overnight stays, and decreased access to medication abortion. For women in the study whose nearest abortion clinic closed after HB2, the average distance to the nearest provider increased fourfold.
According to author Liza Fuentes: "This study is unusual in its ability to assess multiple burdens imposed on women as a result of clinic closures, but it is important to note that the burdens documented here are not the only hardships that women experienced as a result of HB2." Previous research by TxPEP has documented both increased wait times experienced by all women accessing abortion care in Texas after HB2 as well as cases of women who were not able to obtain abortion care due to clinic closures.
For copies of the full report, please click here.