Talk About Spooky: Nothing Scarier than Pregnancy Discrimination & the Fact the Senate Has Still Not Passed the PWFA!  
On Halloween in 1978, Congress wanted to address one of the ongoing workplace horrors that impacts pregnant people: discrimination. So, they passed the Pregnancy Discrimination Act (PDA), an important law that makes it illegal for employers to discriminate on the basis of pregnancy, childbirth, or related medical conditions. Since its passage, more pregnant people have been able to remain employed and continue to support their families while pregnant without being forced out of the job (of course that's not to say we don't have a long way to go cough cough universal childcare, paid parental leave, cough). The PDA was critical for ensuring women were able to remain and advance in the workplace before, during, and after childbirth. All good things. Unfortunately, while we hoped the ghost of pregnancy discrimination was gone for good the PDA didn't send pregnancy discrimination to the grave entirely.  
So why is pregnancy discrimination still haunting our workplaces? One reason is because courts interpreted the protections offered by the PDA narrowly, allowing employers to refuse to accommodate workers with medical needs arising out of pregnancy. This means many folks are still being forced to choose between their health and their jobs.   
We know that while many pregnant people can expect a routine pregnancy and healthy birth, some must make adjustments in their work activities to sustain a healthy pregnancy. These reasonable and medically necessary workplace accommodations can include simple things like allowing for an additional bathroom break, having a glass of water at a work station, having food at your desk, access to additional masks or a separate space to work in to reduce exposure to COVID-19, lifting restrictions, or a stool to sit on to decrease time spent standing.   
The accommodations we are talking about are so easy to implement and so small, you might think I'm making this spooky tale up… but I'm not. This type of discrimination is impacting real people every single day. Take for example, the UPS worker denied "light duty" and then who lost medical coverage when she was placed on unpaid leave; the Walmart employee fired for carrying a water bottle, and the woman who suffered a miscarriage and lost her pregnancy because her employer would not provide her with the reasonable accommodations, mainly weight lifting restrictions, she needed. 
The health and economic consequences of this type of pregnancy discrimination are profound. Pregnant workers, especially Black and Latinx workers and those being paid low-wages, are routinely fired or pushed out onto unpaid leave when they need pregnancy accommodations threatening livelihoods at a time when they need the security of a paycheck the most. And others may have no choice but to risk their health in order to provide for themselves and their loved ones – sometimes with devastating results for both the parent's and infant's health outcomes – e.g., worsening an ongoing maternal mortality crisis.  
This is all unacceptable. And what's terrifying and very spooky is even in 2022 not every employer is reasonable and pregnancy discrimination is very much alive. Which is why on this anniversary of the PDA we are saying loud and clear – it's time to fix this problem. We need the Senate to pass the Pregnant Workers Fairness Act now.  
The Pregnant Workers Fairness Act would help fill the gaps left by the PDA by requiring employers to provide reasonable, temporary workplace accommodations to pregnant workers as long as the accommodation does not impose an undue hardship on the employer. This bipartisan, commonsense legislation has already passed the House of Representatives and has a real shot at becoming law because there is so much agreement around why this is good policy! Again, it's a bipartisan solution! But we need the Senate to get with the program and pass this bill. We need Senate Majority Leader, Chuck Schumer, to bring the bill for a vote.  
So, what can you do to make the world a less spooky place for pregnant workers?  
We need you to call/write your Senators today and tell them why we need the Pregnant Workers Fairness Act and why it's about time we put the ghost of pregnancy discrimination to bed. We all deserve to be able to care for ourselves and our families without fear of discrimination and retaliation. Let's work for that more supportive, less scary world.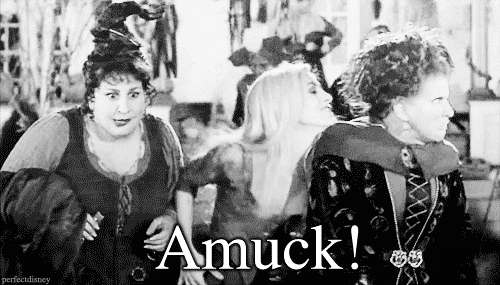 Talk soon!  
MiQuel Davies, Assistant Director of Public Policy