March 10 is National Day of Appreciation for Abortion Providers.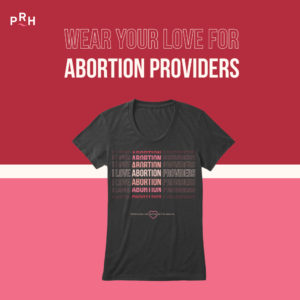 Abortion providers are the reason why we as an organization exist: supporting them in their efforts to provide compassionate care in the exam room, to testifying at their state house, to telling their own abortion story to break down stigma. While it's certainly something we celebrate every day, National Day of Appreciation for Abortion Providers, gives everyone an opportunity to show love, wear love, and give love for these providers who are oftentimes facing harassment and serious threats to their safety and the safety of their families.
Here are two ways you can celebrate the courage and dedication of these health care providers:
Share why you #CelebrateAbortionProviders –  On Friday, March 8at 2 p.m. EST, join our Tweetstorm with Abortion Care Network, Nurses for Sexual and Reproductive Health, and the National Abortion Federation.
Whatever way you choose to celebrate, thank you for being part of our community of providers, patients, families, and allies. We couldn't do this work without your support.